Be very concerned about the process and not the results most times. Ask relevant questions like: how did this person get to this point? Now, you'd see that these questions shouldn't be asked only when people succeed. Ask them when they fail. Ask the rapist why he or she got there! Ask the racist; ask the politician; ask the Elizabeth Holmes; ask… when you ask these questions, it will give you a brilliant connection between failure and success, and the society one finds himself or herself.
Invictus Obi ( Obinwanne Okeke) is a connection of the three. His success (results) were well appreciated and valued. He registered this success when he gave a Tedx talk in Yaba, Lagos, appeared in the International media, the London School of Economics, among others. His imminent failure came from his fraud, worth million of dollars. His society is Nigerian.
What those who were concerned about his success (results) also failed to do was to take a break and request for the process. The question was to be, "Invictus, how did you get here?" "Invictus, how did you double your income from earning $20,000 in 2012 to earning $22 million in 2018?"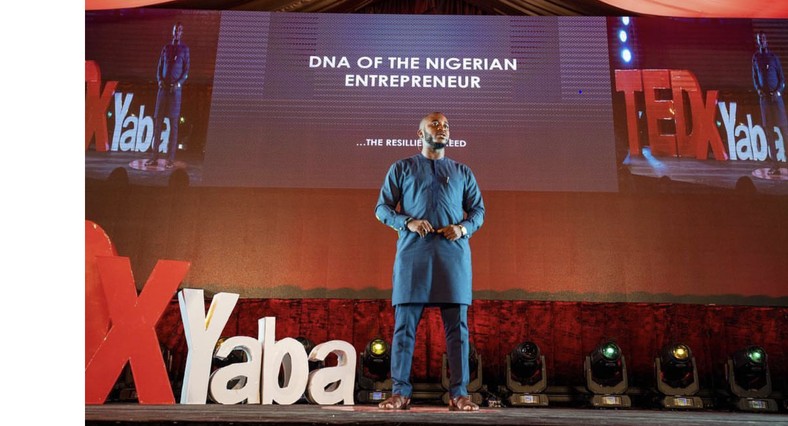 These two questions are the keys to tracking wealth. The first being to find out how conscious the 'billionaire' is of the results; the second being to see how the 'billionaire' explain the process with evidence of growth/figures. Most of the times, we fail to see beyond age, gender, our bias, race and politics in our quest to celebrate success. I would love to share the thoughts of some persons on this issue. Maybe then, you'd see reasons
why the Invictus scam should worry us.
Pulse.ng had gone further to state reasons why the FBI arrest of Invictus Obi could affect future entrepreneurs from Nigeria. You can check it via the link below:
https://www.pulse.ng/bi/finance/from-forbes-to-fraud-5-ways-the-fbi-arrest-of-invictus-obi-could-affect-future/2kb6k9q
Joy Isi Bewaji wrote:
"It is not enough that someone is a doctor…

We tell them to hustle.

So they collaborate with merchants and sell your son's kidney when he comes for check up.

.

It is not enough that someone is a teacher…

We shame them for earning a certain amount.

So they intentionally deny your children good education in the classroom, so that YOU can pay for private lessons and they (teachers) can make more money.

.

It is not enough that he is your employee…

You indirectly scoff at the idea of working-for-others, so these people steal from you…

Because you are an asshole.
.
It is not enough that you are a football coach…
The culture of "hustle oo" in third-world countries will get to you and you ignore the ethics of your industry and ask for bribe.
.
It is not enough that you are a politician…
Nigerians will mock you for driving a Peugeot, so you will do as others do – steal a billion Naira and buy a yacht.
.
It is not enough to be YOU in third-world societies…
The theme of "hustle ooo" will come to you and violate you.
.
It is not enough.
We are never enough.
You are not enough.
.
.
It is ridiculous for the dream or culture of any nation to be defined by money.
The Nigerian dream is the Dollar.
Yet the dollar is not the American dream.
.
This money chase is a big problem.
A society cannot be built on "hustle".
Its significance is destructive.
.
The tailor is hustling, so she rented your wedding dress to someone else so she could make a quick buck before she delivers to you.
Your security guard is hustling, so he kidnapped your wife.
Your friend is hustling, so he is going to flush that friendship down the toilet and disappear with the N500k loan you gave him.
Your local government chairman is hustling, so he will channel government funds to his personal use and leave your roads to turn to gullies.
You are all hustling.
This is what a society of hustlers looks like – Nigeria.
.
The truth is: we don't need wealthier people.

We need people with DIGNITY and INTEGRITY.

A poor man can have DIGNITY!

We have stripped people of their right to self-respect because they don't have money.

Yet we scream when people do the most to get money.

Money still hasn't given any of you dignity.

We are a disgrace.

Deep down we all know it."
So the question on our lips now is: in a country like Nigeria, wherein lies the dignity in the 'hustle?' What was the trigger that made Invictus desire so much wealth at the expense of dignity?
Prince Uzor Oyemaobi wrote:
"The Invictus Obi's saga is disheartening not because another Nigeria yet again has been busted for fraud, it's disheartening because the rippling effect will be enormous.
A lot of Nigerians are going to pay for yet another scandal by a single Nigerian.

Thing is Obinwanne was not just another average Nigerian, he had a CV and portfolio that was envied on even by the international community.

He was looked upon as one of the bright spots to come out of this dark hellish place called Nigeria.

Obinwanne Okeke (Invictus) was one of the supposed few answers to the damning question of "can anything good come out of Nigeria?"
Featured by Forbes as one of the Forbes 30 under 30.
He's been on BBC, given a Ted Talk, Spoke at London school of Economics Africa Summit.
Has a conglomerate spanning across many African countries dealing on oil, agriculture, infrastructure, solar energy etc.
Had a lot of International awards celebrating his achievements
With this sort of portfolio and at 32yrs, he was seen as this bright spark coming out from a country that has more trends for despicable things than amiable ones.
Only to find out that beneath all this facade was a fraudster. A serial one.
An international corporate yahoo boy with suits and a great CV to match.
Estimated to have stolen $20-$22 million from US companies from 2011 till date.
There was always that gaping hole in his story about his start-up capital that gave an itch of not adding up.
But then we gave benefit of the doubt as we usually do even to our own collective detriment in a bid not to come across as a hater.
He fooled a lot of people and that, for a long time. Make no mistake about it, he's going to pay for his crimes. But he isn't my concern.
You can't help but feel for other innocent Nigerians that are going to pay for the crimes of Obinwanne too.
Obinwanne would be in his prison scrub for a long time serving his time.
While other Nigerians out there will be getting Visa denied even after meeting and surpassing all the requirements.
Other Nigerians would have to work twice as hard to earn a modicum of trust and respect within the international community.
International organizations are going to pull out of deals the moment they become aware a Nigerian is part of the deal.
International airports will be a lot more hostile than they already are the moment they see you with that almost worthless green passport.
More companies will start declining cards coming from this part of the world.
Nobody wins here, not you, not me.
Imagine one of the few people who had earned the trust and admiration of the international community being busted for fraud.
What is your fate being an average John Doe or Jane Doe?

While Obinwanne is going to pay for his crimes inside the walls of a correctional facility.

You are going to pay for his crimes in embassy halls, airports, business meetings, immigration offices etc.

It will be no fault of yours, you would probably have all the requirements but still would be treated as an infidel.

When one of your supposed brightest minds has been busted as a fraud.

What are your chances?

Nobody won here.

We all lost."
I wrote this on my social media page:
"I know a land where thieves are the ones caught; I know this place that is an ocean of unexplained wealth; I know the laughter that breaks out when god's sweat is hardwork; I know the silence of honesty, in green, white, green; I know a name:
Invictus
meaning 'he is us'
now this data-life watches
an unfolding of the Universe
in sweat or shame."
My name is *David Francis* . With a lot of trainings and certified courses, *I'll help you edit your books, publish your ebooks, edit your speeches, write your CVs, Resume, Proposals, and Essays, scripts, etc*
You're free to visit the books/reviews section of this blog for more gist about some of my edited/proofread books.
I'm a dogged Philosopher and Research Consultant (St. Albert's Institute, Fayit-Fadan, Kaduna, Nigeria); Editor-in-Chief (Sapientia African Leadership Formation Programme, e. V Address: Badenstedter Street, 99 30453, Hannover, Germany); Editor-in-Chief (African Home Reintegration, Spinnereistrasse 1A 30449, Hannover, Germany); Literature and History (S. E. M. S. Nassarawa State, Nigeria); Former Associate Editor, "Periscope Magazine," Abuja and Columnist, "Seekers Delight Magazine," Kaduna.
I simply try to question the 'happy darkness' by encouraging more hands to minimize ignorance. Just a dose of knowledge, is enough in training the mind, to conform to nothing except truth. Let's ride this train together!
*I have the experience to assist you and take your manuscripts and concerns to professional levels.*
Contact me on 08106278770 (WhatsApp);
09075334070 (contact);
Send a message, or for inquiries to davidfrancisef@gmail.com
To get Published in this blog, submit your work (researches, stories, articles, etc)  here.